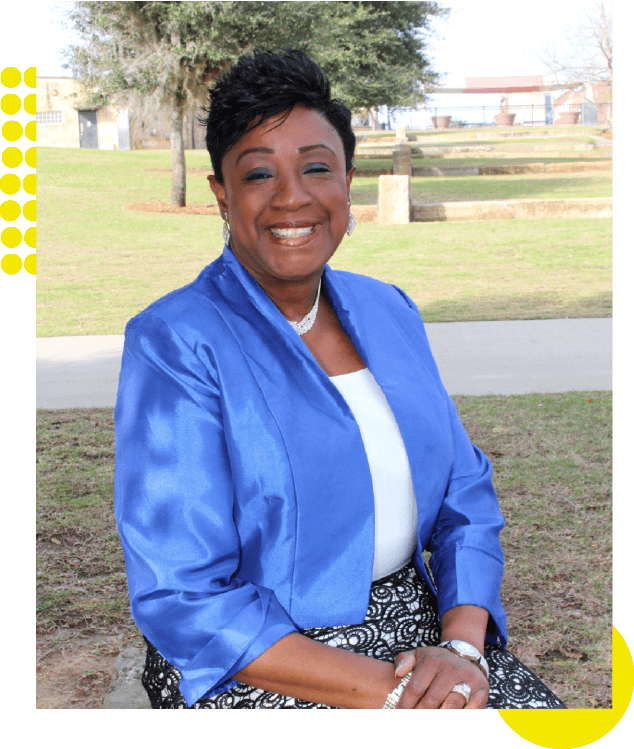 Reverend, Dr. Fonda Thompson is a woman of God, bible teacher, leader, mentor, and motivational speaker. Fonda has the anointing and the passion to preach and teach God's word. Fonda was licensed in 2009 and ordained in 2014 by Pastor Daniel Simmons, at Mt. Zion Baptist Church. Fonda is dedicated and motivated to the call of the ministry.
Fonda is a native of Moultrie, Georgia. She is the daughter of the late Luke Strong, Jr. and Mary Braggs of Moultrie.
Fonda is an Associate Pastor at Mt. Zion Baptist Church in Albany, Georgia under, the leadership of Pastor, Dr. Daniel Simmons. She serves in several different capacities at Mt. Zion; New Member Orientation Ministry, Pastor's Aide Ministry and she preaches and teaches Bible Study.
Fonda has facilitated workshops for Head start and the National Runaway and Homeless Youth conferences. She has presented at women Christian and empowerment conferences.
Fonda has a Bachelor's degree in Criminal Justice, Master's Degree in Human Resource Management, both from Troy State University, and a Master's and Doctorate degree in Ministry from Andersonville Theological Seminary.
Fonda has been employed at Open Arms, Inc., a child advocacy center for abused, runaway, and homeless youth for 24 years. She has worked in many capacities; Group Home Manager, Runaway & Homeless Youth Director, Human Resource Director, and she currently serves as the Executive Director.
Dr. Thompson is the Founder and CEO of Fonda Thompson Ministries, a ministry that encourages, enhances, empowers, and embraces the lives of women to become all that God has called them to be through teaching, preaching, bible study, prayer meeting, spiritual counseling, and spiritual group work sessions.
The ministry was founded on Psalm 139:14, "I will praise thee; for I am fearfully and wonderfully made: marvelous are thy works; and that my soul knoweth right well."
In 2012, she was named Business Person of the Year by the Albany Area Black Expo. On May 2019, she was presented the Service Leadership Award presented by Albany State University MPA Program. She is an active member of the Albany (GA) Alumnae Chapter of Delta Sigma Theta Sorority, Incorporated where she currently serve as the Assistant Chaplin.
She is married to Master Gunnery Sargent (Retired) Ira Lee Thompson, Jr. They are the proud parents of Steven and Alena Thompson, and God-parents of Sharavious Jackson and Arion Davis.
Fonda's motto in life is to always live the life that God has given you.
Rosalynn Fowler-Fliggins, MAPC
Rosalynn Fowler-Fliggins currently serves as the Associate Executive Director of Open Arms, Inc. She is a native Albanian, educated in the Dougherty County School System. She is a Magna Cum Laude Graduate of Darton State College and Albany State University, where she obtained degrees in Psychology. She is a Summa Cum Laude Graduate of Argosy University in Atlanta, where she obtained a Master's Degree in Professional Counseling. Mrs. Fliggins' background and experience are colored with various roles in helping, educating, and advocating for youth. She has served as a Foster Care Supervisor, CASA (Court Appointed Special Advocates) Director, certified Forensic Interviewer, Group Home Manager, Georgia Statewide Human Trafficking Task Force member, Adjunct Professor, Grant Reviewer, and Program Administrator. She is a trained counselor in Parent-Child Interaction Therapy, Treatment Assessment Pathways, and Motivational Interviewing. She has been named as one of Albany's Top 40 Professionals under 40, Rural Leader's Top 40 Professionals in Southwest Georgia, Service Leader by Albany State University, and as a member of Who's Who Among America's Small Businesses. Although Mrs. Fliggins has served in a number of roles since starting her tenure with Open Arms, Inc. in 2001, her current role has been essential in ensuring that there are services in Southwest Georgia for youth that are homeless, abused, trafficked, or that have run away. Mrs. Fliggins has been instrumental in securing millions of dollars in funding for the youth of Open Arms, Inc. since being named as the Associate Executive Director. Rosalynn Fowler-Fliggins considers it a God-given honor and blessing to serve those who need it most. Not one for many spoken words, her actions show her dedication to child/youth victims and to this community.